Best Places for Picnics in Mumbai
Everyone requires a day out for enjoying time with friends and family. Recharging yourself from time to time ensures the recovery from any type of stress. Planning a picnic to explore the greenery and fun activities or even some much-needed seclusion can surely be a stress buster. Here is a list of the best places for a picnic in and around Mumbai.
1. Hanging Gardens
Hanging Gardens is on top of Malabar Hill in South Mumbai. This garden is situated far enough away from the bustling city where you can enjoy the quiet sunsets over the ocean. It is a great place to enjoy some family picnic time and it has a great playground area for kids. The main attraction is the house shaped like a boot. Entrance to the garden is free. You can also visit the Kamala Nehru Park opposite Hanging Gardens and make it a full day affair. During the evenings, the water fountains add an additional charm to the garden's atmosphere.
• Timings: 05:00 AM to 21:00 PM and open all days
• Nearest station: Grant Road (Western Line)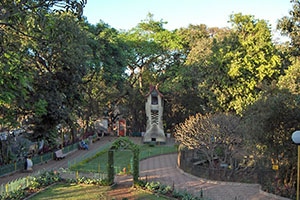 2. Manori Island
Manori is an area that is dominated by the Koli (local fishermen) community. Situated in Northern Mumbai, the island is accessible by road through Bhayandar and by a ferry from Marve Beach (Malad). We recommend taking the ferry as it is comparatively shorter than taking the roadways. Manori is a nice and clean beach suitable for a family picnic. There is a Portuguese Church, which is a major tourist attraction. If you can stay a bit late, be enthralled by the beautiful sunset by the beach.
• Ferry cost: Rs 2.50 per person and extra for the vehicle. The last ferry is at 23:45 PM.
• Nearest station: Malad (Western Line)
3. Elephanta Island
This popular tourist destination is a UNESCO Heritage that has been carved out of single rock. The island is accessible by a ferry from the Gateway of India. There are around seven caves with one dedicated to Lord Shiva. There is also Cannon Hill, named after a cannon there. Beware of unruly monkeys when you visit. Make sure they don't get away with your belongings and eatery.
• Timings: 09:30 AM to 17:30 PM and closed on Monday.
• Nearest station: Churchgate (Western Line)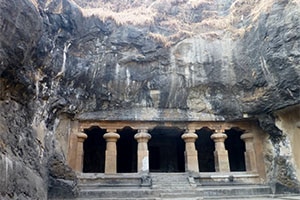 4. Palghar
Palghar is a town located in the Konkan district of Maharashtra and lies 35 kms north of Virar. When in Palghar you can get your adrenaline rush by adventurous posts like trekking, alley crossing, kayaking and fishing at Dabhosa Waterfalls in the Dabhosa village. You can also trek the Tamtak Fort to enjoy the sunset point and greenery around. Getting to Palghar definitely requires a bit of a road trip, but if you have the time and your into a little adventure, it can make for a great family experience.
• Nearest station: Palghar (Western Line)

Coming to Mumbai? You can book your hassle-free stay at Lalco Residency, the best serviced apartments in Andheri East. If you want more details regarding our latest deals contact our Sales Team.
For bookings and queries, contact us at:
Call us: +91 22 4276 4376
Call us (toll-free): 18 0022 5757
WhatsApp: +91 91520 04708
Email us: sales@lalcoresidency.com